At J&E Graphic, we offer a full range of printing & publishing services. There is no job, too big or small that our staff cannot handle. From pre-press through production, we will take your ideas and transform them into reality.

Pre-Press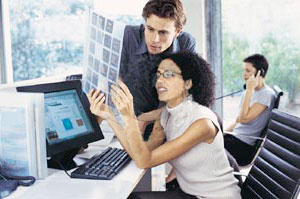 Technology has had a huge impact on the design and printing industry. The net effect to creative design is a wonderful wealth of new tools and media. Our winning combination of manpower and technology allows us to offer every printing service, from complete pre-press operations, such as typesetting, art, design, scanning, retouching, layout, halftones and copywriting, to full 4/color process printing.
Our experienced designers can develop your project utilizing our state-of -the-art MAC / PC pre-press environment. After reviewing proofs to insure that your project has been designed to your exact specifications, your job will be output to our innovative "direct to plate" system. This will insure that you are receiving the highest quality output possible.
Production
Offset, Web & Screen Printing
Whatever your printing needs, J&E has it covered...
Direct Mail Pieces, Postcards, Newsletters, Catalogs, Brochures, Stationery Sets, Journals, Business Forms, Promotional Printing (Tote Bags, Conference Materials, etc...) and much more!
Mailing / Fulfillment
Utilizing our state-of-the-art mailing facility, we can automate your mailing process and at the same time save you money on postage. Your direct mail pieces can go directly to the post office requiring no further action by you, the customer, other than providing a database of your address list. It really is that simple.

Call our Printing Services Division @ 718 494 0544 x 10
or email sales@jegraphic.com for a quotation on your next printing and/or mailing project.
Copyright © J&E Graphic, Inc. 2002. All right reserved