Whether you're duplicating audio, video, data, software, photos or any other digital information, you'll quickly discover that we make the job quick and easy. We can deliver unmatched performance and versatility at affordable pricing.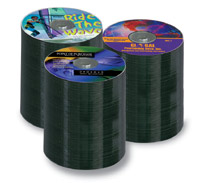 Incorporating the latest high-resolution ink-jet printing technology we produce stunning graphics, photos and text with incredible, photo-realistic 2400 dpi print resolution printing directly onto the surface of discs. This makes labeling faster, more professional looking, and helps to protect your valuable data.
Our system can produce not only standard 120mm CDs and DVDs, but also several of the most popular business card shaped and mini-CD formats as well as custom shaped CDs.
Multi-shape CDs are CDROM / CDRs that can be shaped into any size and shape, including the now popular Business Card Size CDs. It can be used in almost all CD drives, and carries the same data formats as regular circular CD does.

Because of the flexibility in size & shape, the product is ideal for applications in the promotion of premium, corporation, products, etc. where the Multi-shape CD can be tailored into the contour of corporate logo or product shape.

What are the Benefits of using Multi-Shape CDs?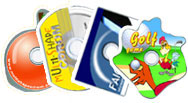 Professional and premium appearance
Promote corporate & product identity
Compact for storage and mailing)
Fast & easy access to information
User friendly
Cost effective
Possible applications of Multi-Shape CDRom
Company/Product/Service/Promotion

Company/Organization/Event Marketing

Interactive Catalogue

Movie/CD Sampler

Multimedia Premium & Gift

Direct Marketing Tools

Interactive Membership Card

Interactive Direct Mailing Catalogue

Business Card

Interactive Business Card

Ticketing

Exhibition/Concert/Event/Tickets
Theme Park Ticket

E-commerce Medium
Call our Printing Services Division @ 718 494 0544 x 10 or email sales@jegraphic.com for a quotation on your next CD authoring/duplication/printing project.

Copyright © J&E Graphic, Inc. 2002. All right reserved